One evening this spring, after a night of ballroom dancing, I glanced in on a West Coast Swing convention that was being held in Medford. I was blown away by the energetic, imaginative, and spirited way I saw couples dancing. Despite the fact that I knew nothing about West Coast Swing, I was so inspired that I invested the whole ...
by: Stephanie Shrum, LMT & NCBTMB Approved Continuing Education Provider From time to time, I'd like to offer recommendations for local businesses as part of my blog that serve as inspiration for the post. In this post, I'd like to recommend a dish at a local restaurant called the Loft Brasserie in Ashland, Oregon. This rich and sumptuous dish is the Dungeness Crab Macaroni ...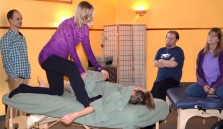 Massage therapy is a very in-depth, personal field where therapists are often engaged over the standard eight-hour day in order to continue to meet the needs of their clients. Very often, these seasoned professionals will find they are struggling to feel energized about their work after just a few years in the field; they are, after all, working intensively with ...
One of the things that I first fell in love with Thai massage was its dance like nature.  Although it is often referred to as 'lazy man's yoga' because the client if facilitated through a series of yoga-like poses, most people who choose to receive Thai massage are hardly the lazy sort.  Thai massage is both meditative and dynamic.  At ...